Members of Teaching Staff
Warm Greetings to all ...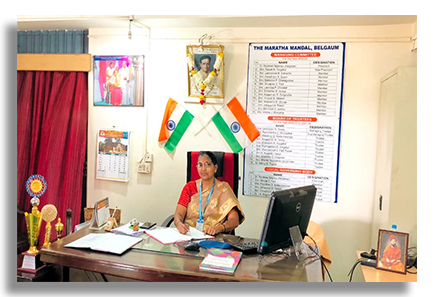 A heartily welcome to all of you to the temple of learning where thurst of knowledge is satisfied and smart graduates are created It is my great honour and also privilege to be the principal of this great temple of learning. It is said that Rajya Poojyate Swadesham, Vidwam Sarvatra Poojyate. So knowledge is most powerful asset the value of which cannot be ascertained, keeping this view in mind, Maratha Mandai s Arts & Commerce College, Khanapur a pioneer educational institution has been imparting quality education to the students of economically challenged in general and girl students in particular. The great visionary and president of Maratha Mandai Belagavi Smt. Rajshree Nagaraju designs and provides all sort of infrastructure which matches the requirement of students in the 21st Century.
Work is worship is the maha mantra of our President Madam for her success in all her Endeavours. The college advocates the philosophy of 'Nahi gnyanhen sadrasham pavitra miha vidyate 'so college imparts value based education and also through NSS, NCC activities social awareness programmes. College encourages the students to acquire various skills like life skills, job skills, social skills, soft skills and communication skills and there by helps to develop overall personality of students. The college has vast playground, high-tech computer laboratory, rich library, well experienced staff, smart class rooms, ladies hostel, ladies room, vehicle parking, lawn, sitting arrangement in the campus garden, nature friendly environment, in all the college has a student s friendly environment. It is a wonderful temple of learning where the students are converted in to an ideal citizens of nation. Swami Vivekananda s vision of man making and nation building would be visualized in this institute. The college is re-accredited at 'B' Grade by NAA C. I wish you all a very wonderful career and bright future.
Dr. (Smt). J. K. Bagewadi, M.Com. Ph.D.Principal
Members of Teaching Staff

Dr. (Smt). J. K. Bagewadi M.Com. Ph.D. Principal & Associate Professor of Commerce.
Prof. (Smt). J. B. Anchi M.A. M.Phil. Associate Professor Hindi (HOD).

Assistant Professors

Dr. I. M. Gurav, M.A. M.Phil. K-SET. Ph.D. Dip.in Journalism
Dr. (Smt.) Rajashree. S. Tirvir, M.A. Ph.D. SLET .B.Ed. D.Litt. Dip.in Translation.
Prof. K. A. Gurav, M.P.Ed. K-SET.
Dr. (Smt.) S. M. Kurani, M.A. M.Ed. Ph.D. K-SET. UGC NET.
Prof. Y. S. Dhabale, M.A.
Prof. (Smt.) Yamuna Chopade, M.A. M.Phil.
Prof. Pranali Sawant, M.Com.
Prof. (Smt.) Smita C, M.A. M.Sc.(Mathematics) B.Ed.
Prof. Soumya Hatti, M.A. K-SET.
Prof. B. M. Patil, M.A.
Prof. Neha Shinde, M.B.A. LLB.
Dr. S. N. Magadum, M.A. Ph.D K-SET.
Dr. K. L. Gasti, M.A. Ph.D. K-SET, Diploma in Epigraphy.

Non-Teaching Staff

Shri. G.M. Mirashi, FDA
Shri. S.L. Satardekar, SDA
Smt. J.V. Banoshi, Clerk cum Typist
Shri. Prakash Bichgatti, Computer Operator
Shri. N. S. Patil, Attender
Shri. D. B. Gurav, Attender
Shri. J. L. Donkari, Attender
Smt. V. V. Talwar, Peon
Shri. B. B. Kulkumkar, Peon
Smt. Bharata Kanbar, Peon